Homecoming ~Morenatsu Revisited~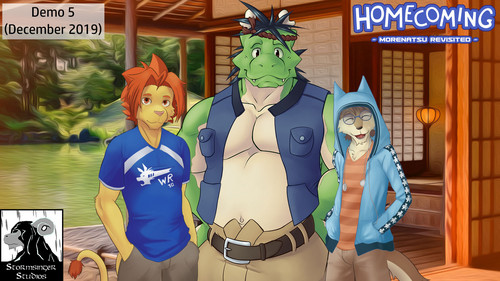 Hey, Homecoming fans!
Whoo! It's been quite some time since the last demo was released, and a lot has happened since.
With this demo, Act 1 has now come to its completion. While sprites haven't really seen much work due to some real life matters for Devilizer, I have made quite a few UI adjustments.
No surprise, but old saves are incompatible. Any attempts at using an old save may cause issues, due to there being missing data. Also, the Android build should work on ALL Android devices. At least, that's what Ren'Py said. xP
Many apologies for the lengthy delays, but I wanted Demo 5 to be the release that saw the finalization of Act 1.
~Frostclaw
+++++ Downloads +++++
https://stormsingerstudios.itch.io/homecoming-morenatsu-revisited
+++++ Change Log +++++
+ UI Overhaul
+ New content:
+ Alternate meeting at Kazenari soccer game - Meeting Sayu on Day 2 is a prerequisite (Day 6)
+ Kyouji and Soutarou events at the afterparty (Day 7)
+ Test of Courage Followup (Day 7)
+ A certain event at Tatsuki's House (Day 7)
+ Phone call to set up the beach visit (Day 7)
+ A new track has been added to the game.
+ A few quality of life changes.
+ SECRET!
+++++ Bug Report +++++
Please report any typos, coding errors, and weird, unexpected sprite behavior! We do try to squash what bugs we find, but some manage to sneak by us.
+++++ Cool Links +++++
Homecoming ~Morenatsu Revisited~ Discord Server: https://discord.gg/WTjM3S5
Homecoming Soundtrack Playlist (assorted): https://www.youtube.com/channel/UCLjQbwdUtaxNekKAPzMx3Aw/videos
+++++ Our Pages +++++
DzahnDragon (Studio Director): https://www.furaffinity.net/user/zanderwolfie/ https://twitter.com/ZanderWolfie https://www.twitch.tv/dzahndragon https://www.youtube.com/channel/UCHwk40OW_bVzPqP6GBTU1qQ
Devilizer (Art Director): https://www.furaffinity.net/user/devilizer/
Lesli-Chu!? (Composer): https://www.furaffinity.net/user/leslichu/ https://soundcloud.com/user-141917326 https://www.youtube.com/channel/UCLjQbwdUtaxNekKAPzMx3Aw
Frostclaw (Homecoming Director): https://www.furaffinity.net/user/grompyryokin/ https://www.the-gcn.com/ https://twitter.com/GCNOfficial
HypoNova (Staff Artist and Musician): https://twitter.com/HyperSketch_Boi
Files
Homecoming (Demo 5) - Windows & Linux
368 MB
Dec 05, 2019
Homecoming (Demo 5) - Mac
350 MB
Dec 05, 2019
Homecoming (Demo 5) - Android
375 MB
Dec 05, 2019
Get Homecoming ~Morenatsu Revisited~